By Jared Leto
First off, thank you all so very very much. What an amazing and epic adventure this has been.  A dozen beautiful sunsets, a few delicate sunrises, bizzarre happenings, tons of fun, chaos, madness and secrets we can never spill. It really has been the tour of a lifetime. So many magical moments and wonderful memories so far. The last leg is Oregon, Washington state, our home state of California and finishing up in Phoenix. It's the final stretch of the Into the Wild North America tour and we have had an experience we will never forget.
Cool Hotel in Portland … The Ace
The insatiable Bart Cubbins has been hard at work with the editors. Long days and nights on the 'Edit Bus' (home to five editors for a month). Keep ur eyes out for we've got some things coming very … soon.
Brothers.
Blue Skies.
An amazing « day off » in Northern California. It's one of the most beautiful places around. Redwood.
The path less trod upon.
The choir from Santa Barbara High School. They joined us on stage for « Kings & Queens » and « Hurricane. »
At The Greek before the show.
Thanks so much to everyone who joined us at our home town show at The beautiful Greek Theatre in Los Angeles. It was a magical night.

My old friend Danny took this at The Greek. What a night! Thanks to everyone who came.
Blast from the past! My friend and director Andrew Niccol sent this pic to me from 2004. I was writing for « A Beautiful Life. »
Mirrors.
For those that have joined us for the Into the Wild Tour, thank you from the bottom of our hearts. This has been the journey of a lifetime and thank you all for that. For those that didn't make it this time … we'll see you on the next one!
+ Plus: Watch 30 Seconds to Mars in Toronto and Washington, D.C., below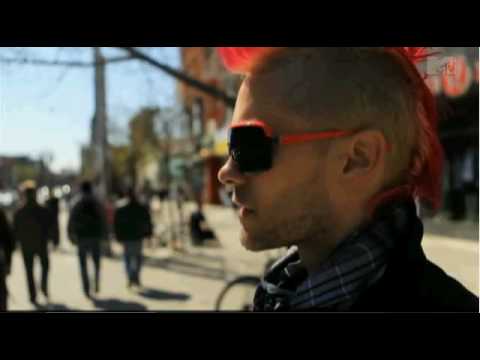 Vous avez aimé cet article? Ceux ci pourraient vous interesser :