Interview realisé par les filles de Planet Verge :
This Is War solidified itself as a headline-making album for Thirty Seconds to Mars prior to its release with the much-publicized $30 million lawsuit and reconciliation with Virgin Records. Then came the "Faces of Mars" campaign, which set a marketing precedent that made fans a part of musical history. Through the operation, 30STM invited both the Echelon and common folk to summits in eight countries and online, where they recorded verses for the album. As if that weren't enough of an undertaking, photos of friends, followers and other notable figures were collected and released on 2,000 different This Is War album covers. Logistical nightmare? Perhaps. A genius way to bring fans into the pulse of this monstrous movement? Indeed.

Having embarked on their first tour in the three years, band members Jared Leto (vocals/guitar), Tomo Milicevic (lead guitar) and Shannon Leto (drums) just conquered the European leg, which included a sold-out Wembley Arena. Fueled by #1 single, "Kings and Queens" and new release "This Is War," the multi-platinum sellers are killing it in America.

Planet Verge's Joelle and Nicole were lucky enough to steal a few minutes with the guys pre-show at the Wellmont Theatre in New Jersey. Rather than focus on what everyone already knows, PV talked to 30STM about what didn't make the front page but is equally important, like that other planet (it was Earth Day!) and the band's mission to bring awareness to saving it thru ABeautifulLie.Org. Plus, we call Tomo out on being a nerd and talk puppy love with Shannon.
Video :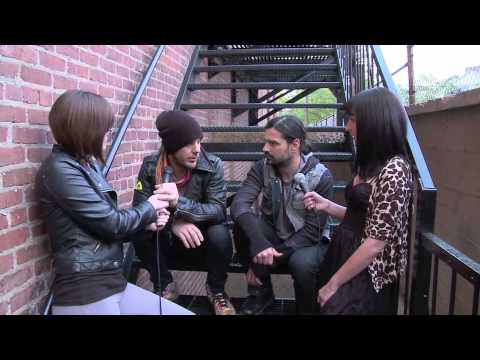 Photos :
Vous avez aimé cet article? Ceux ci pourraient vous interesser :